By Maureen "Mo" Elinzano
The paperless office is the future—goodbye printers, goodbye file cabinets, and goodbye paper.
Dunder Mifflin, in the iconic and forever quotable TV show "The Office," was a regional paper and office supply distributor, but if they could, they would've totally been a paperless office. Obviously!
Let the "World's Best Boss" Michael Scott, Dwight Schrute, Jim Halpert and company tell you why the paperless office is great—even better than a "that's what she said" joke:NBC/The Office/Picslist.com
NBC/The Office/Uproxx.com
2. When you fax the normal way instead of online faxing:
NBC/The Office/TheOdysseyOnline.com
3. When you have a person physically sign a document instead of using eSignature:
NBC/The Office/Tumblr.com
4. When you print and mail an invoice instead of using paperless billing:
NBC/The Office/Crushable.com
5. When you use a file cabinet instead of scanning and saving your files and documents:
NBC/The Office/WiffleGif.com
6. When you have no idea what the Cloud is:
NBC/The Office/Gurl.com
7. When you use a notepad instead of taking digital notes on your computer, tablet or smartphone:
NBC/The Office/Englishmajorhumor.tumblr.com
8. When you print out papers for a meeting instead of using an online agenda:
NBC/The Office/Rebloggy.com
9. When your desk is cluttered with stacks of papers, you're basically buried in papers and you still refuse to recycle or shred them:
NBC/The Office/RockComedyFilm.com
And finally…
10. When someone tells you that a paperless office is impossible:
NBC/The Office/Giphy.com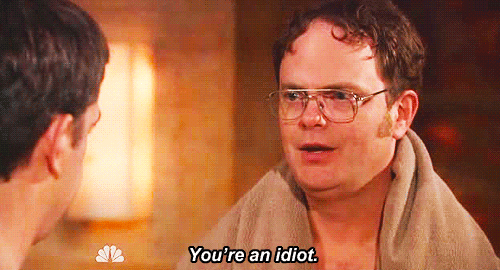 Although the Dunder Mifflin company slogan is "Endless paper in a paperless world," a paperless office is indeed the future.
Don't have Dwight criticize you again. Instead, go paperless with eFileCabinet, the premier electronic document management system, and securely manage your files and documents. Share, store, search. Bears, beets, Battlestar Galactica.